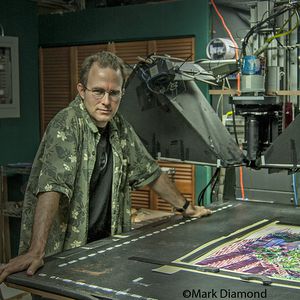 From the Michael Sullivan book: Make Your Scanner a Great Design and Production Tool
David Coons is a color specialist who, with his founding partner Susan created a large-format scanning service for computer and fine artists. ArtScans offers true four-color reproduction through direct digitization of large-scale art on a custom-built scanner for which they wrote the software. Many fine artists prefer their scanner over conventional, high-end drum scanners for its purity — it eliminates the need to scan from a transparency of the art.
David Coons is a color specialist
Based just outside Los Angeles, in Culver City, CA, Coons also writes specialized in-house color management software used to customize reproduction quality for their printing clients. The staff at ArtScans has a great appreciation for art and photography, and enjoy the challenge of faithfully reproducing fine art.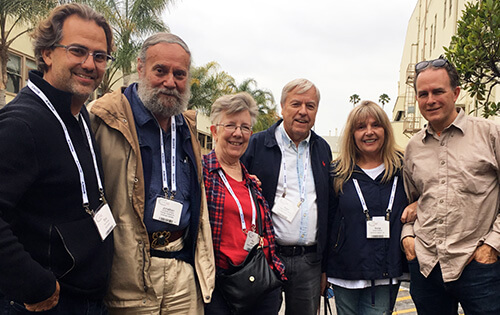 While working for Walt Disney's Feature Animation department in 1989, he was introduced to photographer/musician Graham Nash (of Crosby, Stills and Nash) by a mutual friend, Steve Boulter, of Iris Graphics, Inc. Nash had accumulated a library of stunning photographs of fellow musicians over the course of his remarkable career. When he learned of Coons's extensive knowledge in four color reproduction, Nash supported him in the resurrection of a number of these prints.
Among the prints Nash and Coons worked to make gallery-worthy was a portrait of David Crosby taken early in the musician's career. Nash had a 2″ x 2 1/2″ contact sheet proof of the portrait, but nothing else to work with — the negative and original print were long since gone. In addition to scanning the Crosby image as a substantial, one-step enlargement, Coons needed to retain detail and richness in the midtones and shadows of the portrait. Coons did a number of experimental scans, working on several flatbed scanners and using off-the-shelf software, but he decided that the job warranted the development of a custom application./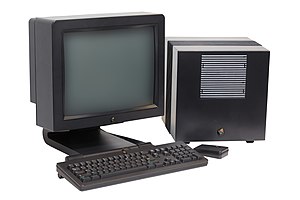 Working on a NeXT computer, which has a UNIX-based platform, Coons developed a remarkable program that utilizes all four colors in the reproduction of black-and-white prints. The highlights and lighter midtones of the Crosby portrait are all composed of black. However, when the midtones reach the point where the grays are 50 percent black, the remaining inks (cyan, magenta and yellow) are gradually eased in to add richness to the darker grays of the shadow regions. The solid black areas are comprised of a 100 percent saturation of all four colors. The Crosby scan was reproduced by making an Iris print on 100 percent rag, Arches cold-pressed watercolor paper. The rich texture and deckled edge of the paper adds to the portrait's sense of depth and intimacy.
Nash, Coons, and Boulter subsequently formed Nash Editions, a professional digital printmaking studio, and brought in Mac Holbert (CSN's former road show manager) to run the company, and Jack Duganne (a professional fine art printmaking specialist) to fine tune the process. ArtScans was founded to digitize fine art originals for Nash and many other Giclee and fine art lithography printing companies around the country.